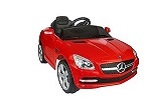 SLK Classic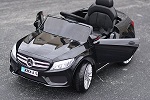 Limited Edition
2016 G55 Power Wheels
Mercedes Benz Electric Car Kids
Kids start out early these days wanting their own car. And they don't want just any car. They want a luxury, sporty edition that they can drive themselves.
A Mercedes Benz Battery Operated Ride On Car will give your child a car that is as luxurious and sporty as their Adult model counterpart. And, it is one that they can drive, or you parents can drive with the remote control, until they are brave enough to make their maiden voyage.
Check out this selection of kids favored Mercedes-Benz battery operated ride on cars, along with features that these ride on cars for kids have and can be found in the same model big car.
New 2016 Limited Edition Mercedes Benz Style Electric Powered Ride On Car for Kids with Remote Control
This New Mercedes Benz styled coupe is one of the most luxurious and elegant cars that you can offer to your child for driving fun.
The car can be controlled by a parent using the included remote control or by the child using the pedals and steering wheel.
Limited Edition Mercedes Benz Features:
Adjustable Seat Belt for Safety
Wireless Remote Controller
Lockable High Doors
Start Up Engine Sound
Horn Sound
MP3 Jack
Foot Pedals
Build-in Radio
SD Card Reader
Exquisitely Detailed Interior
Realistically Detailed Wheels
ECO ABC Plastic Exterior, Body Painted
Rear Mirrors
Sport Style Intakes
Working Front and Rear Lights
Electric Powered 6V Ride Car (Operates 3 to 5 hrs. per charge)
Top Speed 2 MPH (Forward and Reverse Modes)
Rechargeable Battery (Charger included in package)
Recommended ages: 1 to 4 Years Old
Weight Capacity 66 lbs.
Assembly Required (10-15 mins.)
Available Online at: Ebay.com
Mercedes Benz SLK Class 6V Kids Electric Ride On Car with MP3 and Remote Control
Perhaps your little one would prefer a Red luxury battery operated ride on car to sport around in.
This sporty little beauty will fit the bill and might just make them the envy of the neighborhood.
This kids electric ride car can be driven by remote control and manual operation which makes it suitable for a variety of ages.
Mercedes Benz SLK Class 6V Features:
Key start, forward, stop and reverse gears
MP3 connectivity so your child can rock out to their favorite tunes while driving
Adjustable seat belt for safe and comfortable use
A variety of lights including LED rear, turn, dashboard and headlights
Speed: 1.87 mph
Max load: 55.1 lbs.
Applicable age range: 37-96 months
Overall dimensions: 43.3″ L x 11.8″ W x 19.3″ H
Battery standard: 6V 7AH lead-acid batteries
Color: Red
Working Horn
Doors Do Not Open
Adjustable Seat Belt for safe and comfortable use
Remote control and manual operation
Parents can use the remote control for a safe and fun ride for the younger children. Older kids can take full control on their own and really feel in charge of driving.
Available Online at: Ebay.com
Mercedes Benz SLK Class 6V Kids Electric Ride On Car with MP3 and Remote Control
The luxurious Mercedes G55 ride on toy can be self-driven by your child or you can use the included parent remote control to give them that special ride until they can drive themselves.
Every child dreams of owning their own first car. The Mercedes G55 give them the fastest, the sleekest and the most awe-inspiring of toy automobiles.
This vehicle will give your child one of the coolest, coveted cars in the neighborhood.
G55 Mercedes Power Wheels for Kids Features:
12-Vols of battery power allow for two speeds
Integrated MP3 Player with MP3 Aux Input (plug in external devices I-pod / I-phone)
Bluetooth Parent Remote Control
Working Lights, headlight is quite bright when the vehicle moves forward
Speed: 3 – 5 mph
Max load: 80 lbs.
Applicable age range: 2 – 5 years
Trunk Space
Adjustable Seat Belt
Color: Black, White Red and Silver
Lifelike Horn
This ride on battery operated toy car is a lot of fun for both kids and parents.
Available Online at: Ebay.com