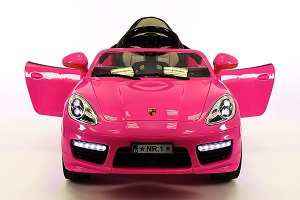 Porsche Boxster Style, Pink
Porsche Style Luxury Edition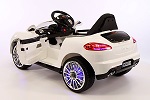 Porsche Boxster Style, White
Porsche Electric Car For Kids
Your beginner driver will love their new stylish Porsche ride on toy car. It is designed for 2 to 4 year olds. Kids think they should start driving their own vehicle shortly after they learn to walk and talk.
And just any car won't do. They want a bright, shiny car with all the features that mommy and daddy have.
Porsche Boxster Style 12 V Battery Powered Kids Ride On Car, 2 Motors, Parental Remote
This Porsche Boxster styled toy car has soft leather seat and a navigation voice that tells your child to buckle up.
Children love being able to open the doors on either side and get in just like on big car.
Porsche Boxster Features:
Soft Start and Electric Brake System for Gradual Acceleration and Reliable Braking
Soft and comfortable PU Leather seat
Adjustable 5 Point Safety Seat Belt (Similar to Stroller Safety Harness)
Realistic Imitation LED headlights / Fog lights / Tail Lights
Attractive LED Wheels with Traction Bands
Storage Trunk
Integrated MP3 Player with Mp3 Audio Input
Plays file from Micro SD card, USB Flash Drive or external devices like iPod, iPad
Horn and Music sounds on the Steering Wheel
Battery Charging Time 8 – 10 Hours, Riding time up to 1.5 hours
12V Battery, 2 Motors
2 Speeds (High and Low, 3 Speeds controlled by Parental Remote)
Maximum speed 3 – 5 Mph
Maximum Rider Weight of 55 lbs.
Suitable for boys and girls 2 – 4 years of Age
Designed for riding on paved surfaces (not for riding on mud, sand or grass)
2.4Ghz Parental Remote Control, Forward and Reverse switch
Openable Doors
Colors: Pink, Red, Orange and White
Integrated folding handlebar & rear caster wheels to transport the car without battery
Assembled Dimensions: 40″ L x 19″ H x 24″ W (with mirrors)
Seat Width – 12.5″, Seat Depth – 7″, Dashboard to the back of the seat – 15″
Available Online at: Ebay.com
Porsche Style Luxury Edition 12V Power Wheels Remote Control Ride On Electric Car for Kids
This luxurious Porsche styled child toy car is one of the sleekest and most awe-inspiring of ride on automobiles for kids.
You can make your child's dream of owning their own car come true early on in life. They will be thrilled to show off and share their cool car with all their friends.
Porsche Luxury Edition Features:
Real Paint
Life Like Keys
Exclusive Body Work and Leather Seat
Perfect size for 2 to 6 years of age
Doors that Open
Adjustable Seat Belt
Lifelike Lights
2 Speeds
Parental Remote Control / Battery Operated – Mode Switchable
Non-toxic wheels material and anti-skid
Mp3 Input
Antenna, Forward, Backward, Turn Left, Turn Right and Power Switch
Music steering wheel and lifelike horn signal
12V Battery Included
Weight capacity: 50 lbs.
Dimensions: 55 x 26 x 13
Color: Red Real Paint
Available Online at: Ebay.com